Hello community.
Hope everyone is doing well.
Last Friday we released an update that added new Data Source types: Document and Website ingestion. I wanted to share an experimental AI Assist Base Prompt that you could potentially use together with your newly uploaded CSV product lists or any other scenario where engaging options need to be presented.
The Base Prompt I use follows this structure:
When you list out options or alternatives, each choice should be written as [option] followed by the choice. For instance, if you're suggesting different products, present them like this:
[option] Product 1
[option] Product 2
[option] Product 3
[option] Product 4
In order to demonstrate this I've set up a test property that is selling set of meal kits: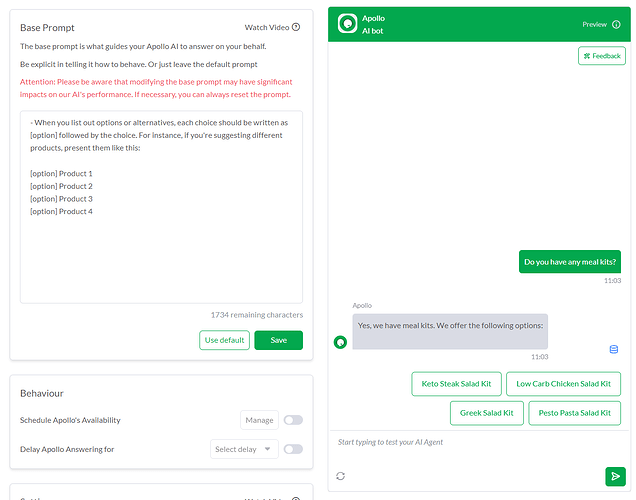 Once visitor clicks one of the buttons, in this case ''Greek Salad Kit'' AI will be able to pull up its entry from the Product list CSV in order to produce a detailed reply: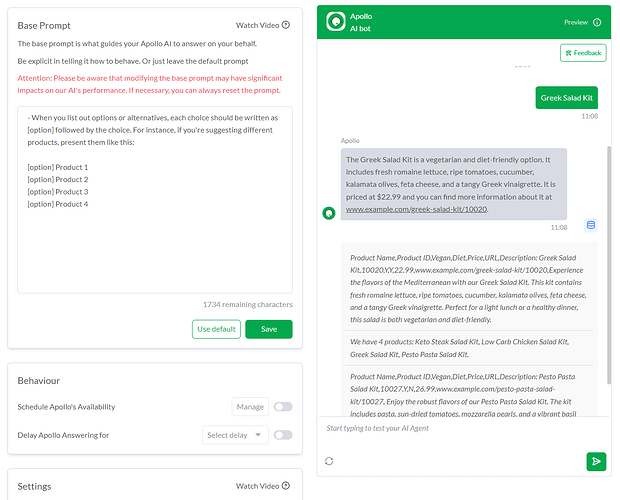 The CSV file used for demonstration looks like this:

I hope this helps and inspires you to create your own versions of this prompt or find new and innovative uses for it. Remember, as with all experimental prompts, the performance of this is highly dependent on the context and the materials given, so there might be some inconsistencies.
If you want me to take a look at your setup and help you optimize it, feel free to reach out to me directly at ralfs@tawk.to. I would be more than happy to help.
Thank you for being a part of our community, and looking forward to seeing the amazing things you'll build with this!